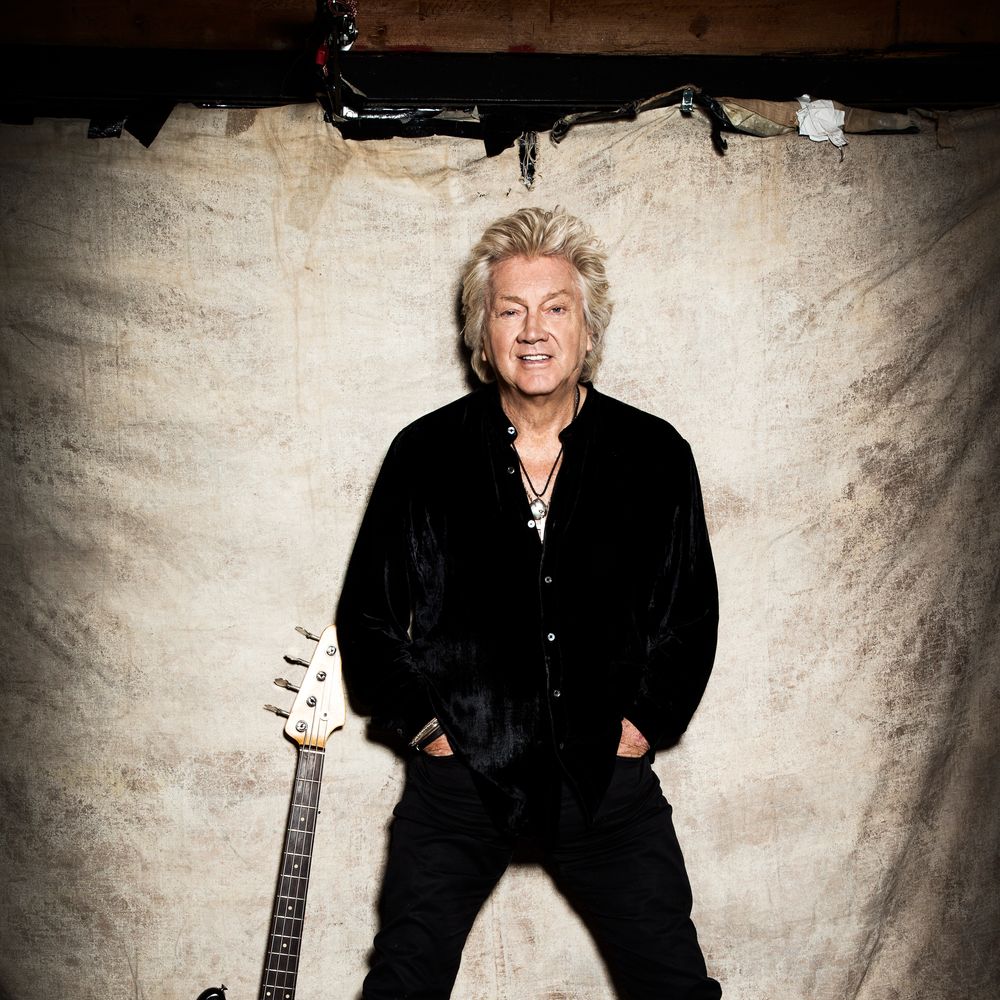 THE MOODY BLUES' JOHN LODGE BIOGRAPHY
John Lodge is bass guitarist, vocalist, and songwriter for the iconic rock band, The Moody Blues. Songwriter of such mega Moody Blues hits "Ride My See-Saw", "I'm Just A Singer (In A Rock and Roll Band)", "Isn't Life Strange?" and many more.  Lodge has been performing and recording with The Moody Blues for more than five decades, selling in excess of 70 million albums, whilst also having a successful solo career.  Lodge has been voted one of the "10 most influential bass players on the planet," and has been the recipient of many awards, including ASCAP (American Society of Composers and Publishers), and Ivor Novello Award for Outstanding Contribution to Music.  John was inducted into the Hollywood Walk of Fame, and in 2019 was given a star in his hometown 'Walk of Fame'.  In 2018, John and the Moody Blues were inducted into the 'Rock and Roll Hall of Fame', and in 2019 John was given the Lifetime Achievement Award in the Prog Awards.
The Moody Blues have released 15 studio albums and countless compilations, and John has also released four solo albums; NATURAL AVENUE in 1977, 10,000 LIGHT YEARS AGO in 2015, LIVE FROM BIRMINGHAM, THE 10,000 LIGHT YEARS TOUR in 2017, and B Yond in 2019.  B Yond included three new tracks plus a 'best of' from John's career.  He also released the duo album BLUE JAYS in 1975 with Justin Hayward, and were voted the Top Duo for that year.
Born and raised in Birmingham, England, Lodge was fascinated by cars, and from an early age wanted to be a car designer; but he also had a great love for music, and bought his first guitar when he was 13 years old.  At 16, he bought his beloved Fender Precision Sunburst Bass, on which he would later perform on all the Moody Blues hits including "Nights in White Satin", "I'm Just A Singer (In A Rock 'n' Roll Band)" and "Isn't Life Strange?" The young musician spent two years learning to play the instrument, and then, with friend Ray Thomas, formed the band, El Riot & the Rebels.  Listening to the riffs of early rock 'n' roll recordings, Lodge's love of bass playing grew as he became interested in exploring "why" the bass guitar added such a huge dimension to the rhythm, energy and emotion of music, and his powerful and melodic bass, such a part of his songwriting, is the result.
After high school, Lodge served an apprenticeship, and attended Aston College of technology (later named Aston University), where he studied to receive a Higher National Certificate in Mechanical Engineering.  In 1966 John received a phone call from Ray Thomas asking "have you finished college yet?"  Lodge then joined, with his former bandmate Thomas, and Mike Pinder and Graeme Edge THE MOODY BLUES as bass guitarist/vocalist. It was at this time they met Guitarist/vocalist Justin Hayward, and the Moody Blues were "reborn".
BLUE JAYS was released in 1975, featuring John and Justin Hayward, and included Lodge's "Saved by the Music," a hard rocking piece with great hooks and a beautiful, catchy chorus, and was considered by many to be a highlight of the record.  This track is featured on the new LIVE FROM BIRMINGHAM album.  NATURAL AVENUE, John's first solo album, was released in 1977, and featured Chris Spedding on guitar and Mel Collins on sax and included the powerful ballads 'Say you Love Me' and anthemic 'Who Could Change'.  Say you Love Me was included in the hit film 'Private Life' in 2018.
Lodge released 10,000 LIGHT YEARS AGO, his second solo album, in the spring of 2015.  The recording reunited Lodge with special guest contributions from former Moody Blues bandmates Ray Thomas and Mike Pinder on the song "Simply Magic."  Legendary guitarist Chris Spedding again appears on the album, among others.  The collection was recorded at various locations and completed at The Mix Factory studios in Florida.  Lodge's song "In My Mind," was nominated "Rock Anthem of the Year" by Prog Magazine.
Whilst still touring with The Moody Blues, Lodge undertook his first ever solo tour in the UK in September 2016, and the last night of the tour was at the Birmingham Town Hall, John's hometown.  This concert was filmed to capture this special evening.   In February 2017, John was invited as 'Special Guest' onto 'Cruise to the Edge', a Prog Rock cruise from Tampa to Cozumel.  2017 saw a nine date tour around the NE of the USA, finishing to a sold out performance at City Winery in NY. 
In October 2017 Lodge released LIVE FROM BIRMINGHAM, THE 10,000 LIGHT YEARS TOUR on DVD/CD box set, digital download and Limited Edition Red Double 180g vinyl.  The album features a selection of Moodies classics, such as "Ride My See-Saw", "I'm Just A Singer (In A Rock and Roll Band)", "Isn't Life Strange", "Gemini Dream", the BLUE JAYS track "Saved by the Music" and some of his solo work, including "Get me out of Here" and "In My Mind".
2017 saw the 50th Anniversary of the Moody Blues album DAYS OF FUTURE PASSED, and to celebrate, John and the Moody Blues embarked on a very special tour that included a complete performance of this iconic and groundbreaking album.  The tour continued in January 2018 with the fourth Moody Blues Cruise, dates in the USA and finishing with a residence at the Wynn, Las Vegas.  This celebratory concert 'Days of Future Passed, Live' was filmed in Toronto and was shown on PBS as part of their GREAT PERFORMANCES program.  It is now available as a DVD, and reached the top of the US DVD charts.
In December 2017 it was announced that the Moody Blues were being inducted into the Rock and Roll Hall of Fame as part of the 'Class of 2018'.  They first became eligible in 1990, and it took 28 years to receive the nomination.  The news that they were being inducted was met with rapture by the generations of loyal fans who had been championing their inclusion for many years; prior to induction, every 7 out of 10 letters received by the Hall of Fame were about the Moody Blues, and their support drove them to a strong second place in the 'fan vote', garnering 1m votes.  The Moodies performed live at the ceremony in Cleveland on April 14th, closing the show, and the event was broadcast on HBO and Amazon Prime.
In October 2018, following a three-week residency with the Moody Blues at the Wynn Las Vegas, Lodge returned to the USA with his 10,000 Light Years Band.   The shows received great critical acclaim, as one critic said 'The bassist may be playing smaller venues on this solo jaunt, but he and his band played with the same passion and physicality most rock stars reserve for sports arenas and stadiums.'
February 2019 saw Lodge and his 10,000 Light Years Band again appear as 'Special Guest' on 'Cruise to the Edge', with further dates in Florida and the NE, and April 2019 saw John return to tour in the UK.   On April 11th Lodge's career was celebrated with a special Charity concert at the Birmingham Symphony Hall, and he was inducted into the City's Walk of Fame alongside Carl Palmer; something he is incredibly proud of receiving in front of his family and friends in his hometown.
During the Summer of 2019 John performed as part of 'The Royal Affair' tour, together with YES, Asia and Carl Palmer, travelling across the USA performing at over 30 cities.  During the shows, Jon Davison of YES joined John on stage for 'Ride my See-Saw', and John joined YES, for a very special encore performance of John Lennon's Imagine.  On October 30th, 2020 YES released a live album of their performance in Las Vegas, entitled 'The Royal Affair Tour; Live from Las Vegas' and the album features John's performance.  John and his band will also be releasing a live album of their set with release scheduled for September 2021, featuring all John's Moody Blues hits from the show, and other special performances from the following tour in the USA.  The album is to be titled 'Royal Affair and After', and also features tributes to all his Moodies bandmates.
In Autumn 2019, Lodge released a new album "B Yond" on BMG.  The album features 3 new recordings, 2 new remixes, and other tracks chosen by John as he revisited the very best of his career.  Lodge totally recreated "Street Café", "(Evening) Time to Get Away" and "Legend of a Mind", with his 10,000 Light Years Band.  The tracks were co-produced by John and Alan Hewitt, and features John on his original Fender Precision Bass on which he recorded all of the classic Moody Blues songs.  Legend of a Mind was particularly important for John to include on this album as it is his tribute to his friend Ray Thomas who sadly passed away in 2018.
John and his band returned to the USA to tour to yet more sold out shows in November 2019, and then in February 2020, John appeared with his 10,000 Light Years Band on the '70s Rock and Romance Cruise' sailing out of Miami, together with Cheap Trick, America, Don Felder and many others.  They then set off on a three week 'sold out' tour.  The tour ended on March 9th to a packed house in Lexington, MA, and within a week John was in 'isolation' due to the pandemic.
During this time John wrote "In These Crazy Times".  As he could not be with his band or engineers he decided to learn "GarageBand", and then recorded the track in his 'home studio' in Florida, performing vocals, acoustic and bass guitar, and on GarageBand he recorded the keyboards and drums all himself.   Joining John on the song are his wife, Kirsten and son, Kristian, both of whom have never recorded before.   John was also delighted to have Jon Davison, of YES, also add backing vocals and harmonies.
In April 2021 Lodge is due to release his new single 'The Sun Will Shine'.  The song was written 'in isolation', and is performed by John, his 10,000 Light Years band, and Jon Davison (continuing their collaboration).  The song is a call to try and see things in a positive way, and resonates as the pandemic hopefully starts to fade.
With touring on hold in 2020-21 due to the pandemic, John is currently working on new material for a studio album, and looking forward to the release of his live album and singles.
John will always be a Moody Blue, and never wants to stop, but as he also says of life on the road with his band, 'Music is my life and I can't wait to get on the road with my band… the venues are smaller and more intimate, but I love live concerts "have bass will travel" that's the gypsy in me.  I am a 'Moody Blue', I always will be, but I love getting the chance to perform songs that I have never performed before, and of course classic Moody Blue songs during these solo shows.  The fans and I have travelled this road a long time and I hope they will continue with me, and also hope new fans will discover and explore along with us'.
John has worked on many albums during his long and successful career, including producing the album Medusa by Trapeze featuring Glenn Hughes, an album that has become iconic in the world of rock, and wrote 'Stay away from Me' a track on the recently released Gene Vincent album, 'A Piece of the Time'.  John also recorded 'Important Words' for this album.  Through his career he has worked with Brian Wilson, Jerry Lee Lewis, Chuck Berry, Bo Diddley, to name just a few of the icons in John's life.
When not touring Lodge's other passions include Charity and Wine.  Ten years ago he began his boutique wine label 'Krisemma Wine', hoping to share his favorite wines from around the world.  To date he has produced four wines, a red from Napa Valley, California, and another from Bordeaux from France, and a two whites from the Elgin region of South Africa.  The 2014 Elgin Chardonnay recently won a gold medal and two Trophies in the International Wine Challenge 2016, including Trophies for Best South African Chardonnay, and Best Elgin Region Chardonnay. 
Charity is very important to John, in particular children's charities, and has been throughout his career.  As a keen golfer, he has been Captain of the Variety Club Golf Society, and is a proud member of The Grand Order of Water Rats, two of the wonderful Charities that provide John an opportunity to give back.  He also undertakes many fundraising activities at home in the UK, and in Barbados he is Trustee of the Sandy Lane Charitable Trust.
For more information go to johnlodge.com
All tour dates at www.johnlodge.com/tour-dates
Facebook and Twitter:  JohnLodgeMusic
Youtube:  John  Lodge - https://www.youtube.com/channel/UCuMFGNKgHltRNiECGVVDmtg
Review of London Cadogan Hall show April 13, 2019
https://www.express.co.uk/entertainment/music/1115523/Moody-Blues-John-Lodge-Cadogan-Hall-London-live-review
JOHN LODGE - COMPOSITIONS 
With The MOODY BLUES 
Breaking Point (with Justin) 
Candle of Life 
Emily's Song 
Evening (Time to Get Away) 
Eyes of a Child 
Forever Now 
Gemini Dream (with Justin Hayward) 
Gimme A Little Somethin' 
Here Comes the Weekend 
Highway (with Justin) 
Hole in the World 
House of Four Doors 
I'm Just a Singer (in a Rock and Roll Band) 
In the Quiet of Christmas Morning 
Is This Heaven? (with Justin) 
Isn't Life Strange 
It May Be A Fire 
Lean On Me (Tonight) 
Love Don't Come Easy 
Love Is On The Run  
Magic 
Met Me Halfway (with Justin) 
Minstrel's Song 
Miracle (With Justin) 
Nervous 
Once Is Enough (with Justin) 
One More Time To Live 
On This Christmas Day 
Out and In 
Peak Hour 
Procession (with the band) 
Ride My See-Saw 
River of Endless Love (with Justin) 
Rock 'n' Roll Over You 
Running Out Of Love (with Justin) 
Send Me No Wine 
Shadows On The Wall 
Sitting at the Wheel 
Slings and Arrows (with Justin) 
Sooner or Later (Walkin' On Air) (with Justin) 
The Spirit of Christmas 
Steppin' In A Slide Zone 
Strange Times (with Justin) 
Survival 
Talkin' Talkin' (with Justin) 
Talking Out of Turn 
The One (with Justin) 
Time To Get Away 
To Share Our Love 
Tortoise and the Hare 
Under My Feet 
Want To Be With You (with Justin) 
Water (with Justin) 
Wherever You Are 
Words You Say 
SOLO WORK 
(You Drive Me) Crazy 
10,000 Light Years Ago 
Broken Dreams, Hard Road 
Carry Me 
Children Of Rock 'n Roll 
Get Me Out of Here 
Important Words 
In My Mind  
In These Crazy Times (Isolation Mix) 
Intro to Children of Rock 'n Roll 
Light Years Overture 
Lose Your Love 
Love Passed Me By 
Natural Avenue 
Piece Of My Heart 
Rainbow 
Say You Love Me 
Simply Magic 
Street Café (1977 and 2019 versions) 
Summer Breeze 
Sunny Sunshine Faces 
Sunset over Cocahatchee Bay 
The Sun Will Shine 
Those Days in Birmingham 
Threw It All Away 
Who Could Change 
WITH BLUE JAYS 
Maybe 
Remember Me My Friend 
Saved by the Music 
When You Wake Up 
You 
WITH CARPETBAGGERS 
Blues Stay Away From Me 
JOURNEY INTO AMAZING CAVES 
We Can Fly 
Water
MOODY BLUES STUDIO ALBUMS 
1967 
Days of Future Passed 
1968 
In Search of the Lost Chord 
1969 
On the Threshold of a Dream 
1969 
To Our Children's Children's Children 
1970 
A Question of Balance 
1971 
Every Good Boy Deserves Favour 
1972 
Seventh Sojourn 
1978 
Octave 
1981 
Long Distance Voyager 
1983 
The Present 
1986 
The Other Side of Life 
1988 
Sur La Mer 
1991 
Keys of the Kingdom 
1999 
Strange Times 
2003 
December 
JOHN LODGE SOLO ALBUMS 
1977 
Natural Avenue 
2015 
10,000 Light Years Ago 
2019 
B Yond (features 3 new songs, plus live recordings) 
2021 
EP 'On Reflection' (release Nov 2021) 
MOODY BLUES COMPILIATION ALBUMS 
1974 
This is the Moody Blues 
1978 
The Great Moody Blues 
1979 
Out of This World 
1981 
Eternity in an Hour:The Best of the Moody Blues 
1984 
Voices in the Sky: The Best of the Moody Blues 
1987 
Prelude 
1989 
Greatest Hits 
1990 
The Story of the Moody Blues - Legend of a Band 
1994 
Time Traveller 
1996 
True Story 
1996 
Anthology 
1999 
Classic Moody Blues:The Universal Masters Collection 
2000 
The Best of the Moody Blues: 20th Century Masters - The Millennium Collection 
2001 
The Singles + 
2003 
Say it with Love 
2003 
Ballads 
2005 
Gold 
2006 
An Introduction to the Mooody Blues 
2007 
Collected 
2008 
Playlist Plus 
2011 
Icon 
2013 
Timeless Flight 
2014 
The Polydor Years : 1986-1992 
2017 
Nights in White Satin : The Essential 
MOODY BLUES LIVE ALBUMS 
1977 
Caught Live +5 
1993 
A Night at Red Rocks with the Colorado Symphony Orchestra 
2000 
Hall of Fame 
2005 
Lovely to See You : Live 
2007 
Live at the BBS: 1967-1970 
2008 
Live at the Isle of Wight Festival 1970 
2010 
Live at the Royal Albert Hall with the World Festival Orchestra 
2018 
Days of Future Passed Live 
MOODY BLUES VIDEO  
1990 
The Story of the Moody Blues : Legend of a Band 
1993 
A Night at Red Rocks with the Colorado Symphony Orchestra 
2000 
Hall of Fame - Live at the Royal Albert Hall 
JOHN LODGE LIVE ALBUM/LIVE DVD 
2017 
Live from Birmingham (The 10,000 Light Years Tour)